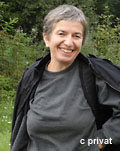 STICHWORT is acquiring holdings from the author, biographer, and activist, Ines Rieder (1954–2015).
The holdings include personal notations, writings, dossiers, and photos, as well as books which will be added to the STICHWORT library.
With your donation you can help finance the personnel necessary for the accession of the archival and library holdings!